r4i-DHC 3DS RTS supports Nintendo 3DS V6.3.0x and DSi V1.4.5 perfectly

R4i-SDHC 3DS RTS is a new 3DS card for N3DS console, made by r4i-sdhc.com team. It is the advanced version of R4i card - r4i V1.4.1. The firmware and kernel have been released on http://www.r4i-sdhc.com, which can run NDS ROM fine. So that you can play NDS games on 3DS for free! However, R4i SDHC 3DS card does not support 3DS games now. This R4 card support micro SD/TF card up to 32GB, and support wifi ( upgrade automatically and smartly ).


The latest Note:The R4i-SDHC 3DS card can support 3DSV6.3.0-12,V6.2.0-12,6.1.0-11,V6.0.0-x,5.1.0-11,V5.0.0-11,V4.5.0-10, V4.4.0-10, V4.3.0-10,V4.2.0-9, V4.1.0-8, V4.0.0-7, V3.0.0-6 and NDSi V1.45, V1.44



R4i-SDHC 3DS supports Nintendo 3DS V6.3 and DSi V1.4.5 perfectly.
please update the firmware to V1.74b.
Recommend Rating
1.Real-time save features.
2.Directly compatibility 3DS V6.3.0-12 and DSi V1.45,without any updating needed.
3.Famous technology team.
4.Very suit for both Newbie and Adept players.
News

1.3DS firmware has been updated to V4.5.0-10, this card can directly work on it without any updating.
2.DSi firmware has been updated to V1.45, this card can directly work on it without any updating.
3.R4i SDHC 3DS firmware has been updated to R4i-3DS V1.65b English.
4.R4i Save Dongle -Backup the 3DS/DSi/DS game save data and sharing game savers with users.
---
New Service
R4i-SDHC 3DS RTS card is working great on 3DS V4.5.0-10(J,E,U) and DSi V1.45 with R4i-3DS V1.65b English
We are the R4i sdhc 3DS official reseller, all the items are from orginal team, no fake cards.
This item is free shipping worldwide! You can receive the tracking number in 24 hours!
You can find other 3DS flashcards from here:3DS card!
Wanna choose a 3DS accessary? Please come here: 3DS Accessary!
---
Description
R4i-SDHC 3DS RTS card is a great flashcard released by official R4-SDHC team(R4i-sdhc.com), it is a great R4i card for your nintendo 3DS, this card can support 3DS 4.5.0-10 and DSi 1.45 out of box. The card eable you to enjoy the Real-time save features, you won't miss it!
RTS Functionality
☆Real-time save features.
Allows user save current game state at any time of the game. Player can immediately continue the game state by reload the save file after the game failed or shut down the console. R4i-SDHC launches unique sharing features where RTS save files can be share between the users.

☆Real-time guide features
Real-time guide features allows user to read hints/guide of the games immediately without exit to the game. Real-time guide support 2 types of format (text and picture). User can write guide into any "txt" file or "bmp" file. The size of the "bmp" file should be "256x192". The "txt" file support English, Simplify Chinese and Japanese language coding. If both "txt" and "bmp" file exist, "bmp" guide file will have a priority.

☆User-cheat features
Enhance the features of user cheat. User allow to activate/deactivate/modify user cheat at any point of the game. To do these changes, user need to save the state of the game then return to the MENU to configure the user cheat. After that just need to run the game and reload the RTS save file again.
Package Content
1 x R4i-SDHC 3DS RTS Card
1 x USB MicroSD Apdater
Operation manual(Real-time save and real-time guide operation guide)
STEP.1 Go to game menu list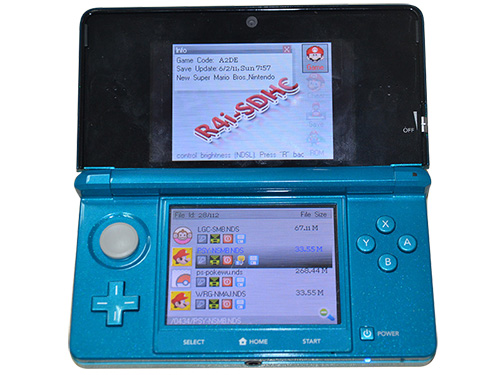 STEP.2 Select "ROM" (upper screen right hand side). User can activate/deactivate RTS features for that particular game. If you wish to keep the setting after shut down console, press "Save" button.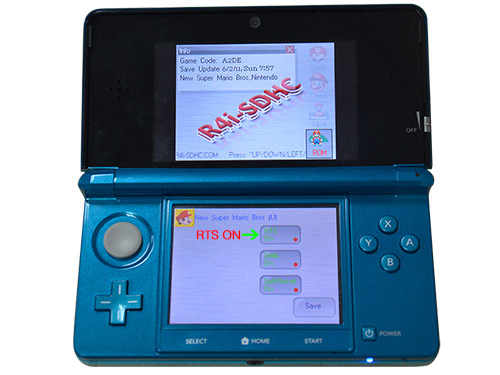 STEP.3 While play game, user can press hot-key "L+R+A+B" to enter the RTS menu.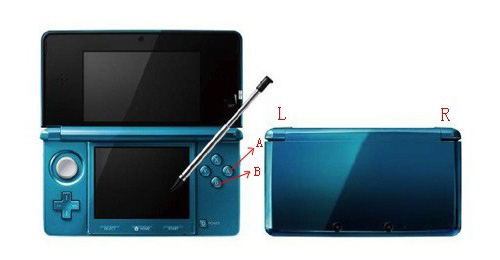 STEP.4 Below is a RTS menu after pressing hot-key